Pop-up Shop Launch Party
Posted: 17-08-2011
Creative activities were in full flow at the Haverstock Carnival Project's launch party of their colourful community pop-up shop at 46 Malden Road, Camden on 8th October.
Invitations were thrown open to local residents who turned out in full force to sample some of the taster workshops on offer. There was something for everyone from youngsters to adults.
A selection of healthy snacks, hot spiced apple juice and music from the rhythmic steel drums created a party atmosphere and kids took full advantage by dressing up in carnival costumes, expressing themselves artistically by painting on the art wall and having their faces painted.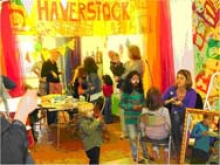 Adults who had always fancied their hand at sewing were delighted to discover how easy it is to learn how to use a sewing machine, with many feeling confident enough to come back and join the sewing class which is making costumes for the carnival on 30th October. The sewing machines are available for use by anyone in the community Just phone up and book a time.
The shop was decorated with vibrant banners made during screen-printing workshops which took place throughout the summer and original head dresses and dragons made by the willow sculpture workshops.
For the next few weeks the shop will run weekly creative workshops, coffee mornings and cooking demos to prepare for the Haverstock Carnival on Saturday 30th October. Everyone is welcome and all activities are free, funded by Well London who are promoting wellbeing in London through creativity, healthy food and physical activity.
You can join existing workshops or start a new one. Need somewhere to hold a meeting, get together with friends old and new at coffee mornings, play cards or dominos or book the screening room to watch your holiday films or wedding videos with your friends?
The team would also love to interview people on the theme of Home and Community. They also want to hear from everyone from kids to older residents who've seen many changes over the years. Come and make your voice heard and contribute to something, which your grandchildren can enjoy in the future.
There will be an intensive week of creative workshops during the autumn half term. If you would like to show off your culinary skills or learn how to make an authentic curry the team would love to hear from you!
The shop is open from 12 - 6pm Mon - Fri and 11 - 4pm on Sat. The shop also sells a range of items and welcomes any donations. Email the team at info@creativehealthlab.com, phone 07864002189, 07725909919 or 0795681502 or pop into the shop.
London Health Commission 2010 Awards
Posted: 17-08-2011
In June 2010 over 100 of London's community groups and small businesses applied for a London Health Commission Award.  The Awards celebrate the way small community groups and businesses contribute to London's well-being.  The Mayor is supporting the scheme with his Award for Active Travel for groups or businesses getting more people walking and cycling.
For the first time Well London Groups and organisations had the opportunity to enter or nominate an individual volunteer for an award in the new Well London category. 
After a vigorous shortlisting process, which included visiting each of the final three groups the following groups and individuals were selected as the cream of the Well London Crop:
The Lansbury Gardeners for their work to promote and develop gardening related activities in Hind Grove, Tower Hamlets.
The Junction Resident's Association for their work to improve Pocket Park and the sounding area in Harlsden, Brent.
Nancy Noronha for her outstanding contribution to the work of the Well London delivery Team in Woolwich Common, Greenwich
Prizes include £1000, exclusive use of a winners' logo and a film made about their organisation that showcases their work. The awards will be presented at City Hall on 20th September.  The final winners in all categories will be announced on the night.
Click here to find out the winner.
Stewarts Road Beehive
Posted: 18-08-2011
3 September 2010
A new Beehive has buzzed into Stewarts Road Adventure Playground in Larkhall, Lambeth, as part of a Well London Healthy Spaces project that is now in its third year.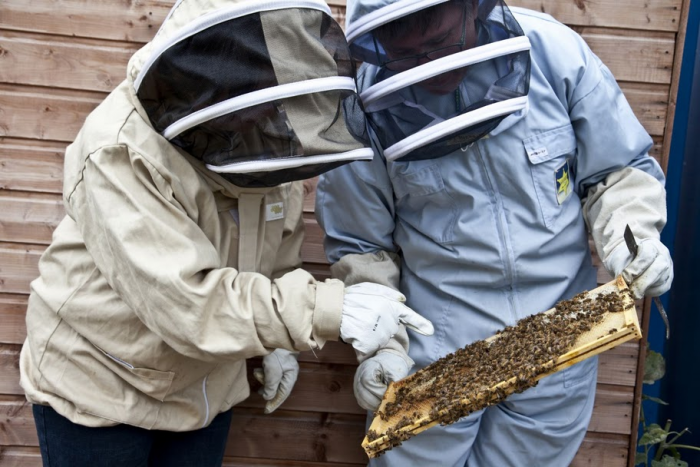 Nine thousand bees and a beehive have been introduced to the local community, with bee keeping training being provided by Luke Dixon from www.urbanbeekeeping.co.uk. Twelve locals including three school children have been taught how to care for the bees and their hive this summer so that it can produce a healthy supply of honey.
This Healthy Spaces project engages people in activities to improve the outdoor area, increase biodiversity and help improve physical and mental well-being. The beekeeping project is an initiative that builds knowledge and practical skills in all aspects of managing a honey bee colony throughout the year.
The bee-keeping course has run throughout August, leaving participants confident to work with the bees on their own. In the future, those wanting to progress onto a recognised certificate in bee husbandry can sit an exam next summer after they have gained enough experience of working with the hive. The adult members being trained hope to pass on the knowledge to people on their own housing estates, youth clubs and schools.
Georgina, one of the participants commented:
The workshops have been completely fascinating, I'm hoping to get permission to have a beehive on my estate and do my bit for increasing the bee population.
Before the project began three years ago, Stewarts Road Adventure Playground in Larkhall, Lambeth, was an unsafe outdoor space with exposed drains, flooding, dumped rubbish and poor access into the new cabin that had been built there as a youth facility. Already the Well London project has improved the outdoor space by creating a vegetable garden, installing a pond, clearing rubbish and laying new paths and decking to make it safer and create disability access. There are also chickens, including rare breed silkies living in Stewarts Road that are looked after by the community and provide fresh eggs that are sold and enjoyed locally.
Worldwide, bees are dying out as a result of pesticide accumulation, pests and diseases such as varroa mites and ever diminishing sources of wildflowers. Fewer flowers and often monocultures of single crop fields provide only one type of pollen and nectar for bees to feed on. This lack of diversity in their diet means many country bees are suffering from malnutrition. Bees in the city fair better now as parks and gardens provide a rich and diverse source of flowers for them to visit and pollinate. It is estimated that 90% of the foods we grow rely upon bees for successful pollination (source: ScienceDaily) so their survival is vital.
Much of the honey available in supermarkets is cheap honey sourced from other countries. Importing honey is bad for native bees as it does not support local bee keeping economies and there is a chance native bees will pick up viral and fungal diseases and may infect their own hive.
The Stewarts Road bees will start to produce honey next summer - a sweet treat for the local community. There are also plans to sell the honey locally next autumn, encouraging people to buy local produce.
Well London Olympic Site Visit
Posted: 18-08-2011
26th March September 2010
On 6th July 2005 London won the right to host the 2012 Summer Olympics with Stratford, East London as the home of the main Olympic Park.
Residents from the Well London areas had the chance this week to go on tours of the Olympic Site in Stratford. Visitors included including the Well London Young Ambassador for Haringey, the Borough Coordinator and Well London Delivery team members from Greenwich and residents from Haringey and Greenwich.
The Olympic visit was a great opportunity for me to inhale a breath of the future of the UK. It was exciting to see how things are shaping up for the Olympic games and I am looking forward to either possibly participate or volunteer at the games

Gerald Owusu, Haringey Young Ambassador
18 people attended Wednesday's visit including the Young Ambassador for Haringey, residents, and members of the Well London Delivery Team from Woolwich Common. It was a great trip with a very informative video shown on the bus and then a guided bus tour. Preparations for the 2012 Olympics are now in stage 3,"The Big Build", so it's a great time to see the major venues, including the Velodrome, Olympic Stadium and Aquatic Centre, taking shape.
All who attended really enjoy the visits and took lots of pictures and asked some really good questions. Residents from Greenwich asked about legacy of the Olympic Village that will house the Olympians during the games and about how transport around the vast site will be managed. Answers to these questions and many more are available at www.london2012.com.
Highlights of the visits included the opportunity to view the construction of the Velodrome, which will be left to the local community after the games and is more affectionately known by construction staff as "The Pringle". The Olympic Stadium, which is now at its full height, with the recent installation of the lighting rigs was also viewed from several points around the park. The river Lea also runs through the Olympic site and is be landscaped for the full enjoyment of future visitors.
Mike Taylor from Greenwich Primary Care Trust also came along and was impressed by the massive scale of organisation. He said the trip had made him feel much more engaged with the Olympics both professionally and personally.
Pictures of the visit are available on the London Health Commission Group Page on Facebook.com. For more information and to view an interactive map of the Olympic site visit www.london2012.com.
WL Greenwich – Local Web Launch
Posted: 18-08-2011
26th March September 2010
On 26th March 2010 the Well London delivery team in Greenwich launched their local Well London website. The launch event was held at the Barnfield Project in Woolwich common and attended by local residents, volunteers and young people.
The website has been produced and is managed by volunteer and Young Ambassador Nancy Noronha who is also responsible for the Well London World Cup website. The site give comprehensive information regarding Well London activities in the area and useful links and contacts for local residents about events, training, latest news and much more.
Visit the Barnfield site at www.fobal.co.uk
Resource guide for social enterprises
Posted: 18-08-2011
2 September 2009
This guide will help social enterprises and people wishing to set up a social enterprise to get to the full range of support available. This includes opportunities for raising funding, accessing business support and training, finding suitable premises, and different legal forms available.
London's first community feast
Posted: 18-08-2011
22 May 2009
Over 70 other local food organisations and top London chef Cyrus Todiwala came together as part of Well London's Wellnet project to celebrate community food projects that provide local people with fresh, affordable and healthy food. The event took place on 19th May 2009 at Dragon Hall, Stukely Street, London WC2.
Logo Design Competition - Winner
Posted: 18-08-2011

Residents of the 20 Well London communities have been voting and the results are now in. We are pleased to announce the winning design for the new and improved Well London logo below.
This design has been created by Joshua, a young resident from Southwark, who had this to say about his design at the beginning of the competition;
My logo idea came from the strap line 'Communities working together for a healthier City'. So I tried to make it as simple and catchy as possible but keeping in mind the focus.

In order to be healthier you have to eat healthy and be active. In my logo I tried to get my point across by drawing a number of things such as break-dancers. Dancing is a popular way for young people and old people to keep fit. I thought it would be cool to put chef hats on the dancers and to put one in the shape of a 'W'. I chose to characterise carrots in the form of an 'L' because it is a common healthy vegetable.
Joshua will now be meeting with the GLA's Design Team to turn his vision into the final logo that will be used across the Well London programme. He'll also be collecting his prize.