Stratford Village in Newham (Phase 2)
Well London
is working with Stratford Village Surgery in Stratford Village. This marks a departure for
Well London
as it is the first time it has been commissioned directly by a clinical commissioning group (CCG). The
Well London
Programme will be open to all residents in the Stratford Village area (see map below) and to those registered with Stratford Village Surgery (SVS).
Projects and Activities
| | | | |
| --- | --- | --- | --- |
| Name and Details of Project | Where and When | Contact | Who can come |
| Living Medicine – herbal plan growing | University of East London, Tuesday mornings until July | Katie Stock | All residents welcome |
| Leap of Faith Dance | Friday Mornings 11m – 1pm Stratford Circus | Natalia | All residents over 50 |
| INUF – Mental wellbeing and sports tasters | Tuesday afternoons | Humaira | All residents welcome |
| New Choices for Youth | Starts in August | Shirley | Young people |
| Shapes Mentoring | Details to come |   | All residents welcome |
| Active Newham Tennis | Tuesday evenings at Stratford Park | Paul | Young people from 4.30, those over 24 from 6.30 |
| Basic Sports and Fitness | Details to come | John | All residents welcome |
| East London Dance – The River | Saturday 28th June at 1pm as part of Greenwich & Docklands International Festival. There will be a meet up outside Stratford Village Surgery at 11am if you would like assistance getting there.  |   | All residents welcome |
| East London Hopefuls | First session starts on Saturday 28th June from 3-6pm. |   | East London hopefuls begin their monthly open-access drop-in service for people in Stratford who have a lived experience of mental health and isolation. creative expression and discussion groups, self-knowledge, self-maintenance, increase awareness of services |
| Stratford Circus- Blue Sky Actors | Performance on 5th July and 8th August at 4pm |   | This project works with adults with learning disabilities and difficulties as they explore the topic of relationships through drama. It is aFREE week-long intensive project.  |
| Newham Carers Network- Young Carers Summer Workshop | Wednesdays 10pm – 1pm from 30th July until 14th August |   | Young carers - six workshops addressing emotional health and wellbeing issues affecting young carers in Newham. |
Please contact Mavis Wenham for more information about the activities taking place, and remember these activities are open to all residents of Stratford Village! For more information about Well London coverage in this area, please see our area maps (LINK) 
Fitness and Wellbeing
INUF, based in the heart of Stratford village is working alongside Well London to deliver free sports taster sessions until March 2015. These classes are becoming very popular, and offer badminton, table tennis, cardio workouts and BMI measuring for all participants.
Stratford Circus is working alongside Well London to deliver a range of dance class for all ages and abilities, resulting in performances across London.
Shapes Mentoring is a welcoming mentoring service which will be taking place this summer, and will bring in local residents of all ages.
Arts, Crafts and Culture
Open Spaces Living Medicine took place this Spring, and allowed residents to get their hands dirty whilst planting together in the herb garden at UEL. It included a Saturday course full of knowledge.
Healthy Eating
Events
Stratford circus will be performing their routines with Well London participants during the Newham Festival on the 13th of July.
Stratford Village Area Map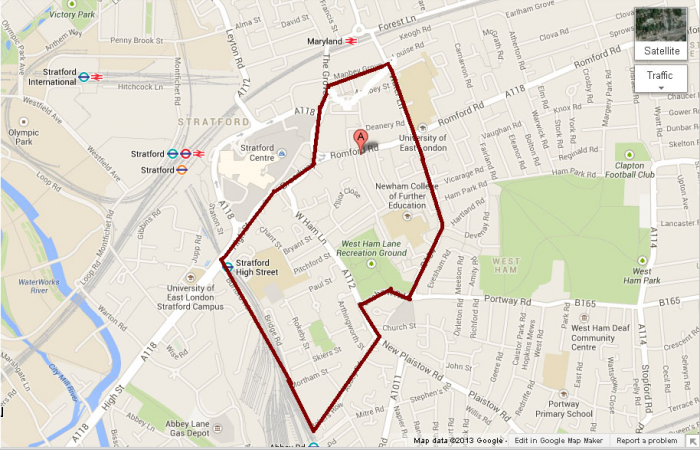 Community engagement in Stratford Village
Well London always begins with a community engagement process:
Door-step interviews completed
In-Surgery interviews completed
Two community cafés completed (held October 8th 2013 at Bryant Street Community Centre)
Asset Mapping and Needs Assessment ongoing
Community Action Workshop for residents, SVS patients and all other stakeholders - completed
Next Event:
Programme Implementation Document (PID), the plan for implementing Well London in Stratford Village based on community engagement data is currently in production
Reports will be posted here.
This will be followed by a commissioning process - an opportunity to bid to design and deliver projects identified in the PID; and a launch event/mini-festival with an opportunity to taste a host of activities. Watch this space for details.