Carnival Fun and Laughter in Lambeth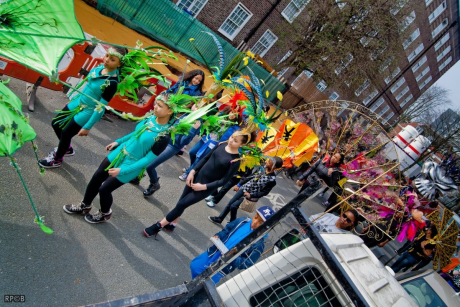 Residents couldn't miss the colours, happy vibe and buzz of the carnival band as it made its way around the Vauxhall Gardens Estate on Saturday 8th March 2014. Residents were stopped in their tracks as they walked along the street and residents waved the procession along from their windows.
This was just the beginning of a great afternoon. The event helped people feel uplifted through a laughter yoga workshops. Residents participated in a soca aerobics session and could also have health and fitness tests. The creatives on the estate got involved with the crafts station and made wonderful pieces of art. 
The event was also a great opportunity to speak to residents and partners about the Well London funding that has been made available to support local health and wellbeing initiatives. Well London is still looking for people and organisations with great ideas that could improve the health and wellbeing of residents living on the estate. For more information about how to apply for funding please contact the local Coordinator Chris Hadfield on 07940 706 314 or email chris.hadfield@kcl.ac.uk