Greenwich (Phase 1 - Completed)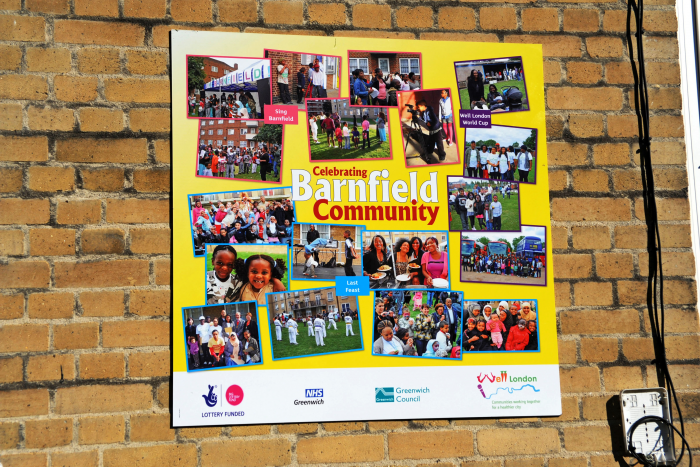 The following Well London activities took place in the Woolwich Common (Barnfield Estate) area.
Themed Projects
Be Creative, Be Well
Connect: My Side of the Story':  A motivational and learning tool using performing and creative arts.
Avant-Gardening: A range of green crafts, gardening workshops, cooking and sports activities leading to a multi-media digital magazine for residents.
Stream:  Community song and music project.
I thought we would just be learning how to sing, but this was better - we shared stories and memories and taught each other songs in our own languages.

Participant in singing workshop
Eatwell


Community Feasts were delivered in July and November 2009.
The community feast event really brought the community together - there were mixed age groups, different cultures, families sitting on the grass, people participating in the singing. People took part. They weren't at a distance.

Kelly-Ann Ibrahim, Greenwich Well London Co-ordinator
DIY Happiness
Eight DIY Happiness sessions.  Dare to Dream ideas that were developed included:
Coach trip to Bournemouth.
A ten-week ICT Course.
A ten-week flower arranging course.
An interior design Course.
A cake decorating course.
Mental Wellbeing impact assessment (MWIA)
An MWIA took place on the Barnfield Estate improvements project.
Changing Minds
Mental health awareness sessions took place on a variety of subjects including:
Tackling preconceived ideas.
Food and Mood.
What helps and hinders recovery.
Promoting Wellbeing.
Alcohol and drug awareness.
Healthy Spaces
Barnfield Estate Open Space Improvements (& consultation)
Barnfield Estate Arts Project
Activate London
Women Only Gym sessions.
Healthy Walks in partnership with the PCT.
Young people's basketball sessions.
Heart of the Community Projects
Training communities
This project provided training for the following Well London groups:
WLDT members
Well London Activators
MWIA facilitators
Young Ambassador
Training Communities also offered Personal support packages (PSPs). Examples of training people chose included the following:
Housing Management.
Early years.
FBRC Resident's Training.
Contemporary Flower Arranging.
Youth.com


Production of a local website.
A talent show.
Barnfield Youth Forum.
Related links
Participant Data
Total participants; 786
667 people reported an increase in healthier eating.
641 people reported increased access to affordable healthy food.
564 people reported an increase in levels of physical activity.
628 people reported that they felt more or much more positive.
Case studies
Shooter's Hill Safer Neighbourhoods team visit to Barnfield Estate
'The prime minister is talking about the big society, and here it is,' says Chief Superintendent Richard Wood, Greenwich's borough commander. 'I know there are still issues out there, but [Well London] has made a great difference to the area.'
The area to which CS Wood refers is the Barnfield estate in Greenwich. Today, the commander has joined residents and Well London representatives for a walk around the estate to take a closer look at its transformation.
He is joined by Police Sergeant Barry Edge and Police Constable Darren Culverwell, both members of the local Safer Neighbourhoods team. Two years ago, the estate was notorious; residents were scared to go outside their front doors, drugs were rife and groups of youths roamed the estate engaging in anti-social behaviour. But all that has changed, says PS Edge.
'Well London has helped to bring this community together for the first time,' he explains. 'They are taking back their estate.'
This new strength of local spirit has drastically improved the relationship between the police and residents, he adds. 'We used to find that residents wouldn't call things in. We were struggling to get people to trust the police. Now we are speaking to each other.'
PS Edge mentions a recent drugs bust on the estate that resulted in five arrests. The police were tipped off by someone on the estate - something that might not have happened in the past.
'If it wasn't for Kelly-Ann [Ibrahim, the local Well London co-ordinator], we wouldn't have that network. She works non-stop,' he says. 'She is helping the community to trust the police and that has helped us take the estate back.' March 2011
Headmaster of Plumcroft Primary School in Greenwich
Richard Slade is headmaster of Plumcroft Primary School in Greenwich. Many of Plumcroft's pupils live on the nearby Barnfield estate, which has been the focus of local Well London activity.
'The Barnfield has always been 'that problem estate'. Now, people don't have a problem. The work that Well London has done has had a large effect... It is now perceived as a better place to go and live, not just somewhere you end up.
My key objective here [at Plumcroft] is to work towards being a bridge between communities. About 40% of our school population comes from the Barnfield estate, which is a deprived, challenging area. Then I have a proportion from the top of Shooters Hill, which is more middle class, middle income. The parents meet in the playground, the children play co-operatively – we've got no issues in terms of difference - but I want to make sure that our parents in particular have active opportunities to engage together in a positive way. So that was my starting point – how can we, as a school, bridge and foster even better relations between parents from the different social groups – making sure the children who aren't on the Barnfield estate don't just see it as a problem area, which is how it has historically been viewed.
The work that Well London has done since 2008 has gone a long way towards cleaning up that image. It's about healthy lifestyles and community engagement – so it seemed like something for us to get involved with, to work out how we as a school can support the Barnfield estate's ambition to become a full partner in the community.
We've just spent £100,000 on the new playground out front. I want to offer that on weekends, so that instead of locking this place up like Fort Knox, we open up our playground for children to come under adult supervision. The children from Barnfield get somewhere safe, and more importantly the parents feel their children are going somewhere safe. They get something decent to eat, they get to play in a safe environment and we get to contribute to that community feel.
At the moment on the Barnfield estate there is no community centre, so there's no real meeting place. The Barnfield project has some capacity, but not enough if you've got a whole bunch of teenagers who want to do computer classes whereas we can do that in our sleep. That is why all this engagement with Well London is so important – they've done the spadework, they are embedded in the community and trusted so that we have access in and people will listen and realise we are serious rather than just talk.
The money coming in from Big Lottery will facilitate progression and continuity so it doesn't just disappear. Hopefully if we plan it right, the funding is coming on tap now to ensure that we really keep it going rather than all this stop-start funding streams.
The real legacy of Well London is the volunteers, those people who live on the Barnfield rather than us who waft in and do what we do. It's the people on the ground who are the really powerful movers. In Barnfield they are talking the time to get to know each other, and Well London has made that happen. By purely having health as its focus and not trying to tell people how it should be from the top down, but taking the time to listen (which is the hard bit) and to then respond to local demand – that's where Well London has trod very carefully. It is genuinely ground-up, and that is very novel. Out of all the projects I have been involved in, this has the capacity and potential because of the groundwork that Well London has done, to really do something positive. We'll just have to see. March 2011
Chinyule Egbuji, Well London volunteer, Barnfield estate
'This estate used to have a bad reputation,' says Chinyule Egbuji. 'People used to stay behind their doors because they were afraid to come out.
Ms Egbuji has lived on the Barnfield estate in Greenwich for 11 years. Early last year she responded to a leaflet through her front door asking for volunteers to spread the word about Well London-funded projects starting up on the estate. The changes in both residents and the local community since then have, she says, been significant.
'Volunteering involved knocking on doors, letting people know what Well London was doing, what's going on around the estate,' she says. 'It was all about getting the community involved in cooking, keep fit, that sort of stuff.'
The Well London courses and training are delivered through the Barnfield Project, a community centre in the middle of the estate. They have brought residents together and it is this which Ms Egbuji praises most of all.
'Because of Well London, community cohesion has improved a lot,' she says 'People are now coming out and voicing their opinions. Before, when we had a residential meeting we'd only get two or three [attendees] – now we get 12 or 13 people each time and more are joining in.'
Volunteering has changed Ms Egbuji, too. 'Before [volunteering] I used to be kind of a loner. I wasn't confident in myself. But through Well London and all the training I got through them, I was able to view myself as someone who has confidence, someone that thinks "I can do this",' she says.
'It also helped me to improve the way I speak. My first language is Ibo, I am Nigerian. When I got to socialise, through Well London, my English improved a lot.
'I hope that Well London might come in for a phase-two, if possible. Maybe the volunteers can go to the heads of Well London and try to talk to them, tell them what it has done for us and for our lives.'
March 2011